PDIP Secretary General Hasto Kristiyanto and PDIP Politician Effendi Simbolon Hugging Very Tightly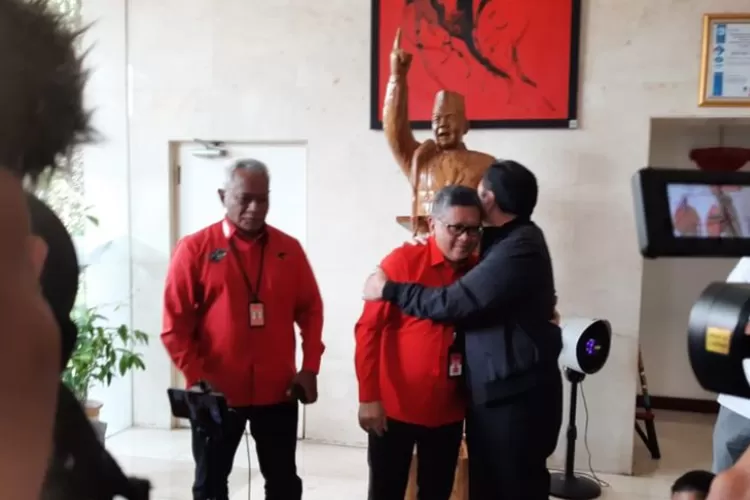 BONSERNEWS.com – PDI-P Secretary General Hasto Kristiyanto and PDI-P politician Effendi Simbolon hugged after the two held a press conference at the PDI-P DPP Office, Jalan Diponegoro, Menteng, Central Jakarta, Monday (10/7/2023) this afternoon.
This press conference was to clarify Effendi Simbolon's statement about the general chairman of the Gerindra Party, Prabowo Subianto, being suitable to lead the Republic of Indonesia (RI).
This is because the public perceives the statement that Effendi Simbolon is not in line with PDIP regulations which require all cadres to support the presidential candidate (candidate) Ganjar Pranowo.
Also Read: Prabowo 'OGAH' Interferes with the Internal Affairs of the PDIP DPP Regarding Effendi Simbolon's Statement, 'Not My Business…'
The two embraced after finishing answering journalists' questions.
Initially, Hasto Kristiyanto immediately shook hands and did a commando greeting with Effendi Simbolon.
On the left side, Hasto Kristiyanto, also accompanied the Chairman of the Honorary Board of the PDI-P DPP, Komarudin Watubun.
Also Read: Pandawara Group Regarding Viral Garbage Was Never Meant to 'Shame' the Local Government
After giving a commando greeting and being immortalized by all the media crew, Effendi Simbolon spontaneously hugged Hasto Kristiyanto.
Effendi Simbolon, who was not in the uniform of the PDI-P party, hugged Hasto Kristiyanto tightly.
Then, Hasto Kristiyanto warmly returned the hug from the member of Commission I of the DPR.
Both Hasto Kristiyanto and Effendi Simbolon were seen smiling.
After that, they also embraced each other until they left the press conference room.
Met while walking to the car, Hasto Kristiyanto and Effendi Simbolon served reporters' questions a bit.